Youthworks' vision is to see an effective youth and children's ministry in every church. Youthworks College helps achieve this vision by raising up the next generation of church leaders through specialist training for youth and children's ministry.
After you graduate Youthworks College, you will be able to understand and faithfully teach the Bible. You will be able to communicate effectively with youth and children having spent time considering their developmental stages and culture. You will be able to lead in a way that directs and empowers others and is supported by clear theological principles. You will become a person who relates to others with humility and care, in your pastoral relationships and teams. You will reflect critically on your life and ministry as a willing life-long learner. You will integrate doctrine and practice, and be committed to a life of prayerful service to the Lord and his people.
Youthworks College is part of the ministry of Youthworks, and shares their mission, vision and values: 
Vision
An effective youth and children's ministry in every church.
Mission
To support the work of the gospel in churches and schools to present children, youth and families mature in Christ.
Values
Values
Word Ministry – We know that as the Bible is taught the Holy Spirit gathers and raises disciples of Jesus Christ.
Authenticity – We are being transformed to be like Christ who is trustworthy, prayerful and gracious.
Effectiveness – We strive for excellence in what we do to make a significant impact in our Diocese and beyond.
Service – We bless others as we are innovative, flexible and responsive to our customers' needs.
Sustainability – We build and grow ministries which are conducted in an efficient and financially viable manner.
Collaboration – We work well together with colleagues and stakeholders to achieve our shared vision.
Beliefs
We are committed to an evangelical theology affirming:
The unity of the Father, the Son and the Holy Spirit as one God in three persons.
The divine inspiration and trustworthiness of the Holy Scriptures.
Scriptures supreme authority in all matters of faith and conduct.
The creation of all things by God including all human beings, male and female, in God's own image.
The universal sinfulness and guilt of humanity since the fall, leaving all men and women subject to God's wrath and condemnation.
The incarnation of Jesus Christ by the Holy Spirit as one person who is both fully human and fully divine.
Salvation through Christ alone, on the basis of Jesus' sacrificial death, as our representative and substitute.
The bodily resurrection of Jesus Christ from the dead.
The necessity of the personal indwelling and work of the Holy Spirit for the beginning, continuation and completion of the Christian life.
The necessity of the personal indwelling and work of the Holy Spirit for the beginning, continuation and completion of the Christian life.
The heavenly gathering of all believers in Christ and the gift of gathering on earth as an anticipation of the Kingdom of God.
B.Ed, M.Ed, B.Th, Dip.A, M.Th., Ph.D.
"It is inspiring to work with students dedicated to growing in their ability to minister the gospel to young people. They do this because they are passionate about seeing them come to know Jesus and to grow to maturity in him."
Ruth Lukabyo
Dean of Women
B.A, B.Th, Dip. Min., Ph.D.
"I love being involved in a college with a big goal: the growth of God's kingdom amongst children and youth. I love teaching enthusiastic and creative men and women whose hearts are open to spiritual and academic growth."
Mike Dicker,

Dean of Students
MA.Th., B.Th., Adv. Dip.Th., Dip.Th & YM.
"What else is more significant than training children's and youth ministers to know God with evermore depth and knowledge, so that they might engage young people with God's Word in meaningful and transformative ways? This is the sort of work that bears kingdom fruit for generations."
Grad. Cert. Theology, B. Div., B. Ed.
"Youthworks College is on the cutting edge of ministry to youth and children. To have the privilege of leading and teaching the next generation of leaders for God's Church is a great honour."
With 76% of evangelical Christians coming to faith by the age of 20, youth and children's ministry has always been the engine room of the local church. But that doesn't mean it has always been recognised and valued. It wasn't until the 1960s that there were paid youth ministers in local Sydney Anglican churches and even later that there were any paid children's ministers. There was also very little specialised training.
However, there were Christian leaders who recognised the value of youth and children's ministry and prayed the diocese would one day provide rigorous specialised theological training for effective ministry to young people . They wanted to train ministers that were committed to youth and children's ministry long-term, rather than viewing ministry to young people as a stepping stone to other church leadership roles. In the mid-1990s, Archbishop Harry Goodhew and the Anglican Education Commission (AEC) began to discuss plans for this kind of training. Meanwhile, Rev Tim Foster submitted a proposal for a theological college to the Anglican Youth Department (AYD).
In 1997, Foster was given Sydney diocesan approval, and then secured funding and accreditation for Youthworks College. He also found a property in Loftus as a site for the college. It was owned by the Church of England Boys' Society who generously donated the use of Camp Wanawong. Then at the end of 1999, Rev Graham Stanton was appointed the Dean who would run the new college. The college program was built upon a unique apprenticeship model where students studied at college for two days a week and also spent three days working in churches. They had first class biblical and theological teaching in the class room and could integrate this learning with experience on the ground, doing the ministry.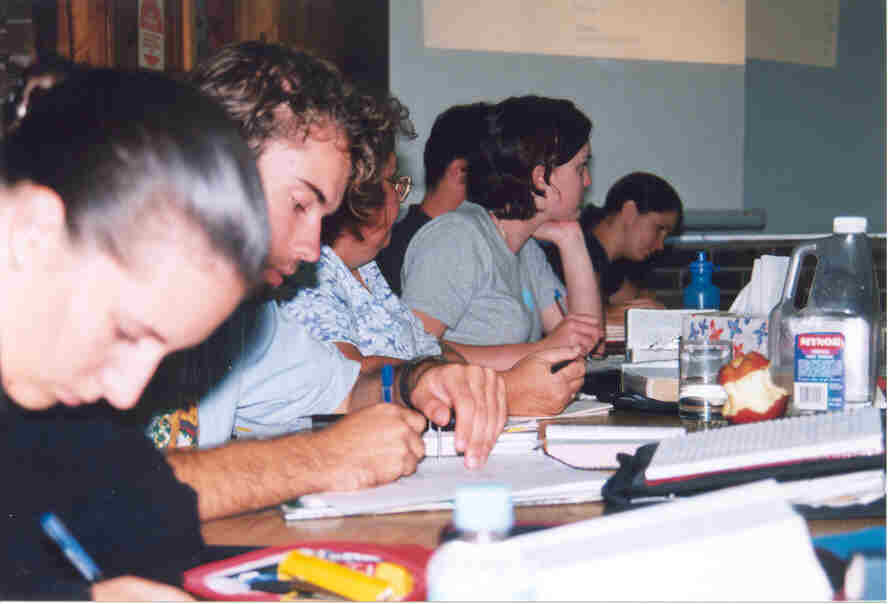 In 2000, Youthworks College opened its doors to its first students It was a humble beginning – their very first day consisted of rolling out the carpet and unpacking the furniture! But it proved to be a deeply bonding experience, and set the culture of the College community for years to come.
Since those early days, the College has grown to become a highly regarded higher educational institution. It has overseen the creation of Year 13 in 2006, now Australia's leading Christian gap year program, and the Timothy Partnership in 2009, providing an online study option for those are unable to study face to face. The College has also worked with Moore College to create a pathway to further study, which allows Youthworks College students to articulate into second year at Moore ; and in 2014, it announced a strategic partnership with MTS, enabling students to gain a double diploma whilst completing their ministry apprenticeship.
Now, after almost 20 years of operation, the college has had a significant impact on Sydney and beyond. It has produced over 270 graduates, dramatically increasing the number of specially trained youth and children's ministers and raising awareness of the importance of this ministry. In 2015, Rev Dr Bill Salier, who was the Vice-Principal of Moore College, became the new Principal of Youthworks College. In 2017, the campus moved to Newtown. This move has enabled the college to grow in numbers but also to experiment with new ways of training youth and children's ministers, and resourcing churches to see more young people won for Christ.